Release date Cursed To The Night
posted 3rd of October 2017
Release date for our 3rd album Cursed To The Night will be the 30th of October!

Pre-orders can be made from Infernö Records, follow the link below:
Infernö Records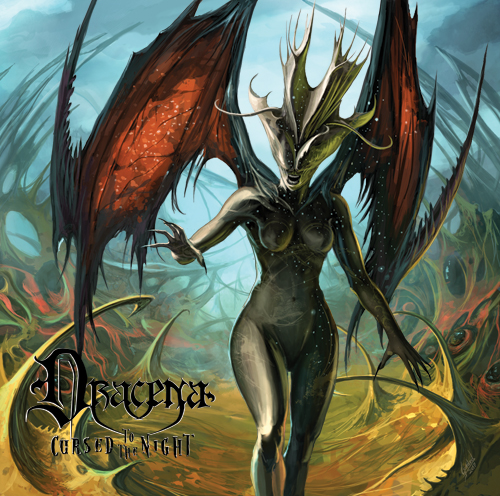 New album Cursed To The Night
posted 21st of September 2017
There will be blood, there will be pain… there will be darkness and death…
We are excited to announce our 3rd album, Cursed To The Night, and the signing to the French metal label Infernö Records!

Cursed To The Night will soon be released as a CD and a limited edition MC.

This new album features special guest appearancens by Fredrik Folkare from Unleashed/Firespawn on lead solos and melodies and Ola Malmström from Sorcery on additional vocals on one of the songs.
The 8 new tracks were recorded, mixed and mastered by Pontus "Punchy" Ekwall at Studio Cave 2016/2017. All drums and Ola Malmström's vocals was recorded by Jocke at MediEvil Studios 2016/2017.
Lead solos and melodies was recorded and played by Fredrik Folkare at Chrome Studios 2017.
We've once again asked Mariusz Gandzel to work with us and he created the amazing cover artwork and creature "The Draque" for this album.
All photos for the album and promotion was shot at Savage Photography, photos by Tallee Savage, make up by Adina Savage and photo graphic effects by Mattias Savage.
Check out one of the new tracks here:
https://www.youtube.com/watch?v=J1hLAFoBkEI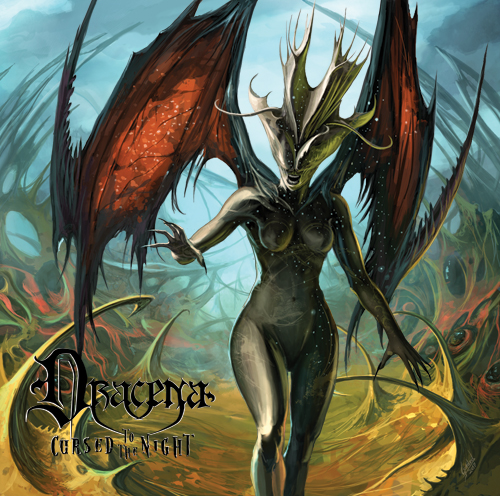 Available - Limited Edition Cassette 100 copies of
Ravenous Bloodlust
posted 1st of September 2017
New cool limited edition cassette release of Ravenous Bloodlust available from: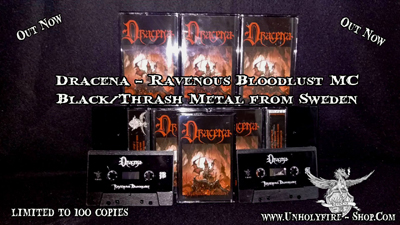 Infernal Damnation available digitally
posted 1st of July 2017
Dracena's first album Infernal Damnation (2006) is now available from a digital media near you:
Spotify, iTunes, Apple Music, Google Play, Deezer, Amazon Music and many more...

https://open.spotify.com/album/7lqHZ4tfQBdTPcQhhTXWTt
Upcoming release - Limited Edition Cassette 100 copies of
Ravenous Bloodlust
posted 25th of June 2017
Brand new release of Ravenous Bloodlust on limited edition 100 copies cassette, coming soon on Unholy Fire Records (GER) More info will follow… !..!
Dracena interview in Metal Bulletin Zine (Seattle region)
posted 14th of Sept 2016
Here's an interview with the webzine Metal Bulletin Zine: http://metalbulletin.blogspot.se/…/interview-dracena_13.html
New studio album 2016
posted 9th of August 2016
Alright, Metal Maniacs!
In a few seconds you will experience that awesome head banging moment you have all been waiting for since you sold your soul to sign up for this page… …
from all of me to all of you, there will be a present for christmas!
Studio Cave has been booked for November 2016 to record the brand new full length album.
There will be blood, there will be pain… there will be darkness and death…
Ravenous Bloodlust available digitally
posted 17th of December 2015
Ravenous Bloodlust is now available on Spotify, iTunes, AmazonMusic, Deezer and other major digital services…

http://open.spotify.com/album/3LWI4q71mhLgTdYVv4RSo6
Dracena live in Germany
posted 29th of May 2014
Dracena live the 14th of June, at the Savagery release show in Münster, Germany
New MCD Ravenous Bloodlust available to order
posted 30th of January 2014
The brand new MCD "Ravenous Bloodlust" is now available
to order from our webshop!
Release date 30th of January 2014
posted 17th of December 2013
January 30, 2014 is the release date of brand new MCD titled "Ravenous Bloodlust". The Drac Productions release will include 4 new songs, recorded at the famous Sonic Train Studios, which belong to KING DIAMOND guitarist Andy La Rocque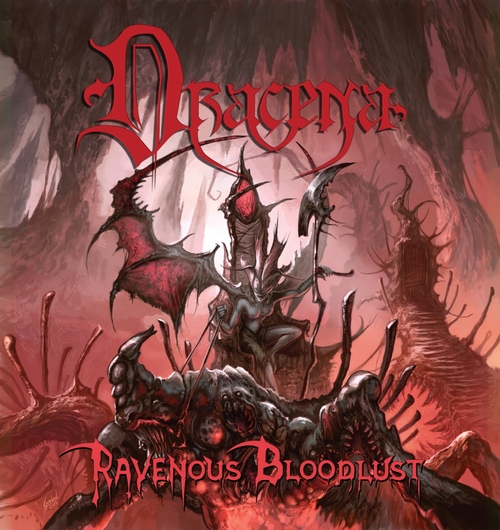 Ravenous Bloodlust new track on Youtube
posted 1st of September 2013
The title track Ravenous Bloodlust from the up-coming release is available to listen to at Youtube:
http://www.youtube.com/watch?v=mesioGxTkpY
Ravenous Bloodlust
posted 18th of August 2013
The 4-track recording is entitled Ravenous Bloodlust
and will be released as a CD during autumn 2013.
Recording Sonic Train Studios
posted 2nd of June 2013
4 new songs have been recorded
29th of May - 2nd of June.
A second session for finishing and
mixing has been set to 22nd - 25th of June
New merchandise available
posted 4th of March 2013
New shirts are available to order from
DracShop
Studio booked
posted 1st of March 2013
Dracena will enter
Andy La Rocque's Sonic Train Studios
in May to record some new material
New merchandise
posted 13th jan 2013
New shirts and embroided logo patches will soon be available to order